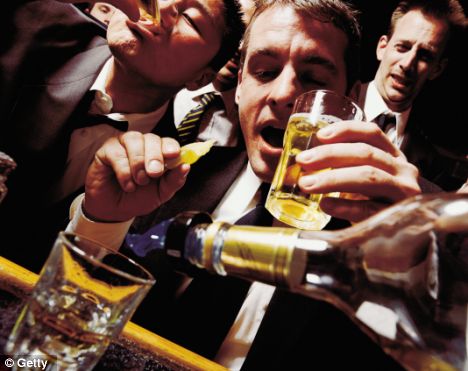 DK
is a massive knob (and not because he has one).
Last Saturday I went out with him and a bunch of the guys, it was a bloody good night! I didn't spend anything thanks to the generosity of the boys and I managed to get completely fuckerdoodled. I know not to drink shots, jagerbombs, beer, cider and all that shit because it fucks me up but did it anyway…
When DK asked me to go he said that I could come providing I didn't "cramp his style" what a fucking douche. Like he has any style to cramp? So I was out to make a point and not touch him all night.
We arrived and my favourite Scotsman was there waiting, he ran over grabbed me and went for his usual motorboat, the guys who didn't know me looked pretty shocked…I assured them this was normal behaviour. I was told to down a glass of rum and coke then given a shot of jager, a fucking big shot, then a beer was shoved in my hand when we jumped in the taxi…oh yeah this was going to be a good night. In the taxi apparently I slapped DK, the reason I am unsure of and the Scottish shoved his penis in my face. Yes this was definitely going to be an epic night.
Fast forward to the final club of the night and damn I was drunk. We were stood outside and Scottish leant in for a kiss, I pushed him away. We do
not
do
that
; he is definitely not my type at all. His friend then did the same, I think I kissed him before thinking "oh fuck" and wondered off to chat to a bouncer I had befriended.
I'm not sure how it happened but I spent the majority of the night with the Australian friend who was fairly hot, we danced like sluts, we played some tonsil tennis and spent most of the night away from the rest of the guys only stopping occasionally to laugh at their atrocious pick up techniques.
Australians are hot and Ryan Kwanten is my favourite one of the moment
Australian disappeared for a while so I was stood with DK, Scottish and another friend. I don't remember this (DK told me). It seems Scottish went in for a second attempt at getting with me and again I pushed him away, DK then turned to the other friend and said "watch this" then of course kissed me. I honestly hate the fucker but damn I like him too much…I'm such an idiot.
The Australian returned and eventually we left the club, the guys had some whores with them who stupidly jumped in the taxi. The men had lost interest in their sluts as soon as they bought their kebabs…plus I expect they didn't look as great in a lit street as they did in a dark club. As we set off back to the house the girls seemed confused, the guys had told them they were going to a party somewhere, so they asked me what was going on, I'm a nice person so explained the situation and believe it was resolved…
I'm not entirely sure about the sequence of events leading up to the next moment but I was embarrassingly drunk. I somehow ended up sleeping with DK…. I KNOW I AM A FUCKTARD AND DESERVE ALL I GET. I honestly couldn't understand how it happened. I was happily getting with my Australian, how had DK pulled a robbery? Well…I just found out. It seems that I told DK at some point in the club when he tried it on, that I wasn't going to touch him as I "didn't want to cramp his style" (me bitter?
Never
…) and he could do whatever he wanted, I'm not one of
those
needy girls, I could get with anyone and didn't need him. At least something along those lines... It seems this annoyed dear DK and he decided to sleep with me to prove a point: that he basically has ownership over me or some shit. I am a little pissed off.
I am so aware that he uses me and it's not fair. When I try to get over him he does shit like this? I just can't help the fact that I really like him even though I'm aware nothing will ever come from it except some immense heartache. It would be easy to get over him but he phones me and we talk for a couple hours everyday fucking day! Last night he phoned me with the intention of phone sex, I basically told him to go fuck himself. I get it in my head that we are just friends and then he tries shit like that? Damning hell what is going on? Why do I always like the douchebags? I hate myself sometimes.
Back to the morning after the night before I woke up to find a mans arm around me...DK doesn't cuddle me even though he likes to snuggle because he "doesn't want to lead me on" a bit fucking late don't you think? One of the other guys had drunkenly stumbled into bed between DK and myself and snuggled in, it was pretty cute and I do like cuddles! DK was less impressed and told him in a few words to fuck off, I said it was fine but DK eventually kicked him out the room...
Story of my life
A little while later, the Australian, the Scottish and the Snuggler all turned up, they were still fucking drunk. The Aussie decided to attempt a dancing strip show, it didn't work because in his words "he wasn't drunk enough"...he then fell over. They then decided it was a great idea to shoot an ornamental bird with a gun while the Scottish held it, luckily no one died except the bird. Next DK was dragged out of bed and there was a crash in the hallway, they managed to break the banisters...luckily the snuggler found some orange netting to fix it...
yeah
that worked! DK drove us home pretty soon after...